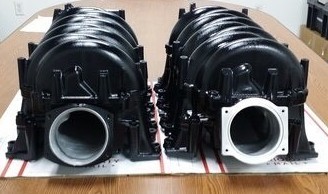 Exhaust headers designed to build torque & support high-horsepower VK56DE race and street-performance engines. The VK56DE needs a good set of pipes to breathe properly. How does the saying go? What goes in, must come out. When it comes to the exhaust gasses, a set of headers can either make or break the response of an engine. The right set of headers is critical to building a strong torque curve. Let your VK56 exhaust itself properly.
Full exhaust system upgrade packages that deliver a tuned sound more fitting the true character of the Nissan VK56DE when un-corked and well-tuned. These engines need to breathe in as well as exhale freely to perform at their best. From the typical dual 2.5" systems to dual 3" SS systems for the forced induction VK56 setups, and the single 4" systems for high-output builds, we can get your VK56DE exhaust system fabricated in-house. Go with the flow every time!
The Legendary PD90 & PD102 bolt-on intake manifold packages. These aluminum intake manifolds deliver both torque & horsepower increases of 45 HP/ 15 FT-LBS+ (And more with upgraded versions) TO THE WHEELS! These manifolds are dyno proven to build more torque than the factory manifolds especially in the lower rpms and make gobs of power to redline. Every truck should have one of these PD90 manifolds, a sturdy aluminum intake manifold, not a flimsy plastic one.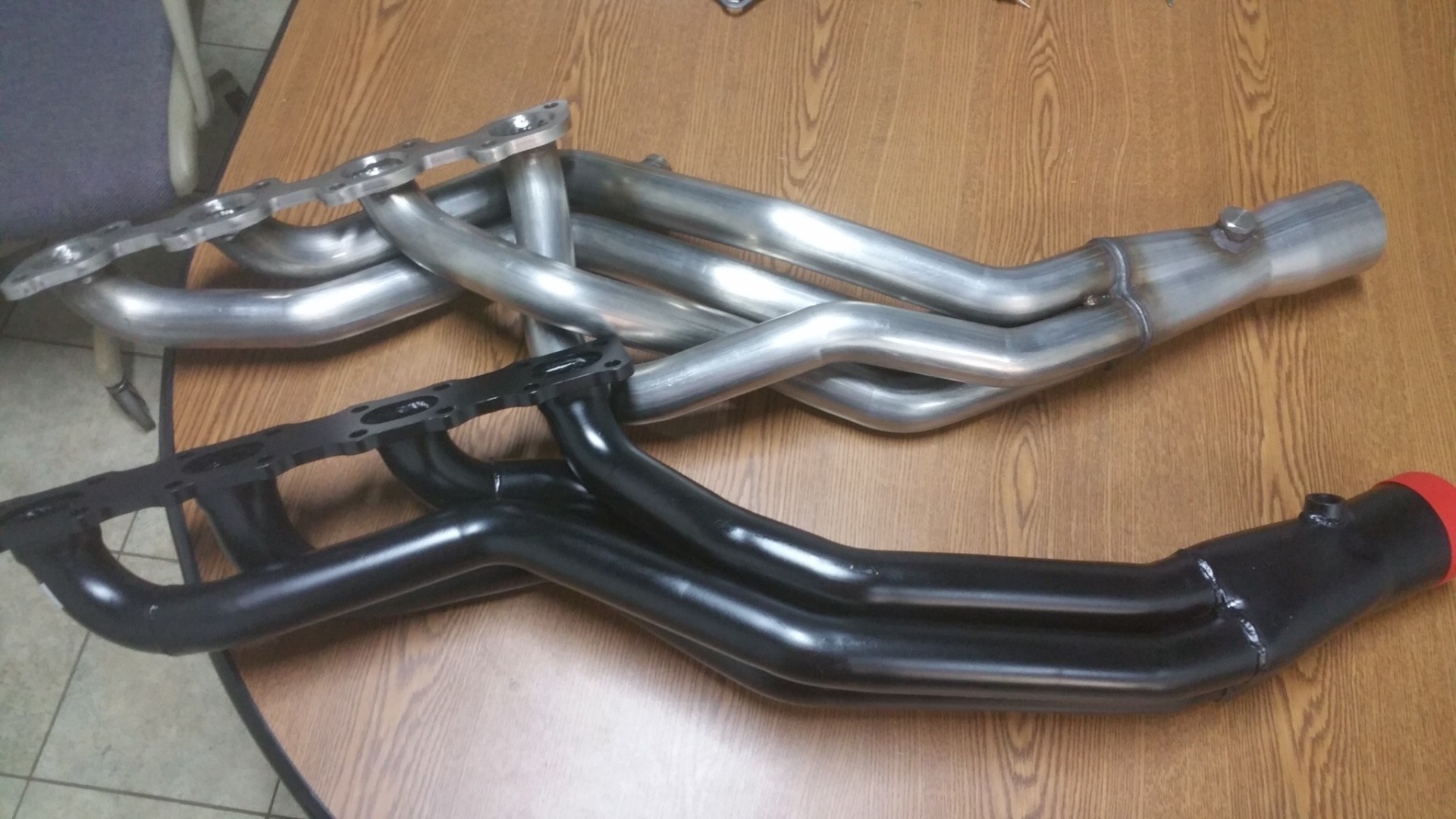 Every once in a while the auto manufacturers design an engine that really stands out from the rest. The VK56DE is one such engine. Designated for motivating larger SUVs and trucks in the Nissan and Infinity lines, this was always going to be a true powerhouse that had to deliver torque in spades. The basic architecture of this engine is based on a cast aluminum-alloy block which features many aspects that make it rigid, strong, and yet reasonably lightweight. It has a casting that is reinforced in all the critical areas to handle combustion pressure and reciprocal loads with plenty of aluminum alloy block material distributed for rigidity and stiffness. Wait a minute, isn't that how race engines are designed? The forged steel crankshaft has some large bearing diameters to properly handle the loads imposed by a torquey engine tune. The cylinder bores are surrounded by a combination of a cast liner and thick alloy cylinder sleeve with closed-in deck surfaces for excellent gasket sealing integrity and cylinder bore pressure load capacity. Was Nissan thinking of turbocharging this engine? Even the main bearings are held in place by 4-bolt (iron) caps with cross-bolted location into the block casting for even better crankshaft rotational stiffness under load. Industry experts put the block strength on par with holding in between 1500 - 2000 HP, from a production casting mind you. These atributes make for a very solid foundation for a modern engine that has to serve in high-load applications, making it a great engine for Motorsports uses when properly modified and tuned.
As far as the cylinder heads are concerned, it is as if Nissan had motorsports intentions in mind from the design outset. We're talking about a pent-roof combustion chamber with large valve diameters, fed by intake ports of generous volumes and an efficient downdraft angle into the cylinder. Camshafts are sitting atop each hydraulic valve bucket for a compact and lower-mass valvetrain arrangement, very important for higher engine rpm operations. Driving the 4 camshafts is a chain arrangement that assures accurate valve opening and better durability than a toothed belt drive system. Even the exhaust ports have a favorable angle and large volumes for great cylinder gas evacuation efficiency. The bottom line is that these heads BREATHE. Nissan has endowed these heads with great port angles, generous valve sizes, clean-burning combustion chambers, and stable valvetrain actuation, all sitting atop relatively high compression pistons. This all adds up to great torque output and power delivery in factory trim and plenty of room for improvement with engine modifications and advanced tuning. A close look at the cylinder heads reveals some of the same performance features given to the RB-series and SR engines that Nissan has used to dominate racetracks the world over. And these heads sit atop a 'truck' engine.
The Nissan VK56 is a great platform to build upon. With its inherently deep breathing heads and strong cylinder block construction, it can be modified to produce well over 600 HP with readily available performance parts. Much, much more can be had with a full complement of induction tuning, cylinder head massaging, camshaft profile adjustments, and engine mapping of course. Nissan has developed this very engine into a V8 Supercar race engine for the Australain touring car series with good reason. The platform is known to be great at delivering midrange and low-end grunt in factory trim and has excellent durability. Nissan left plenty of room for further development with variable valve timing, induction improvements, direct injection, higher compression, and camshaft profile changes all being added in with later iterations. Obviously, their intention was to design a strong basic engine platform to develop further. Their experience with the Skyline RB engines, Z-car engines, GTR engines, and the SR20 powerplants shows in many aspects of this engine's construction. Many of the best elements of each of the best Nissan engine designs are carried over in the VK56 V-8 engine. We simply carry on with specific performance development aspects to meet the growing demand based on feedback from Motorsports competitors, VK56 owners and performance enthusiasts all over the globe. As far as we can see, this will become THE engine to choose for a variety of Motorsports applications. It's potential is immense with only a few inherent limitations to making incredible power and impressive torque. Already there are naturally-aspirated engines existing which have been making over 700 HP and more without a lot of advanced development work being needed. Obviously, with turbocharging the output potential is much more potent. With the practical limits being centered on the cylinder block and rotating assembly, there will be some impressive benchmarks that will be set as it is developed and put to use in various forms of motorsports competition.
While we can not compete with the development capacity of Nissan (we're understandably envious of some of their testing capabilities) there are some fundamental areas to improve upon with the VK56 engines so that it will have better durability while being tuned aggressively for the street or used in various competition arenas. Our development of specific component modifications, upgrades, and blueprinting procedures is focused on improving engine breathing, lubrication delivery, cooling efficiency, valvetrain optimization for higher rpm operation, reciprocal assembly strength and stability at higher crankshaft speeds.
You have found a firm that is here to respond to the demand for tuned VK56 engine parts, significant upgrades, and competition-grade powerplants alike. What are your goals and aspirations for your VK56 engine? We have something for every level of modification and budget. Many owners are very pleased with an intake manifold and header upgrade followed up by an exhaust system and tuning. Others look at this level of modifications as a 'good starting point' and plan on an engine build from the very beginning. There are also those special few who want as much as can be had from the VK56DE engine whether that is 1000 HP, 1500 HP, or more than 2000 HP. Everyone is different, and there are certain projects that will never be duplicated exactly. 'Custom' is a key part of this development but that doesn't have to cost as much as a full-blown factory effort. What is offered here is a reference point for your plan of modifications centered around the VK56DE engine. Our feedback is at your disposal so that you can do it right the first time.
What's your pleasure, tough as nails for a faster romp in the woods, or screaming and belching flames on a circuit, or perhaps even a little of both? The VK56DE is the engine which offers a equal portion of durability and high-power output potential so tuning will really unlock higher levels of performance for whatever you desire to use it for, whether it is street-performance or competition.
Turbocharger systems (kits) are offered that incorporate bespoke developed turbos, manifolds, and control components from Exclusive Turbosystems Inc., which is an 8-year company. They are a trusted ally in supplying no-nonsense turbochargers both performance engineered units, and built from OEM level, top-quality US-produced components from Garrett and Borg Warner. Turbocharger BOV's, boost controllers, and wastegates are supplied from Turbosmart, a Australian company that is at the forefront of development of turbocharger control components. The Aussie's know all about reliability of function in harsh conditions, and they are famous for pushing the limits of vehicle performance. This arrangement provides truck-tough reliability and proven competition-worthy performance alike. These systems are just what the VK56DE performance enthusiast needs. We have heard the many requests for a durable turbocharger solution for the VK56DE engines and responded with several options based on the level of tuning you the client, are looking for. From a bolt-on solution for lightly modified Titan trucks to fully-built race engines transplanted into the chassis of your choice, there is a turbo system that will fit the bill. As complex as the VK56DE engine bay is, this is no bolt-in affair so we offer professional installation in our Florida facility.

Our engine development program is geared to the Titan truck and expanding VK56DE motorsports competition needs. Our efforts are focused on expanding the VK56DE strengths and improving performance based on particular motorsports needs. Computer simulation software is employed extensively to ascertain component specification changes needed to achieve performance goals. Factory parts are retained where they meet the basic requirements and modified for high-performance use, custom parts are developed as needed, designed to be used in harmony with the factory components. Durability of our engines is most important, with output and performance being carefully developed. Put another way, we offer engines that belt out more power than the factory truck engines with the same high-quality and attention to detail that made the VK56DE such a good engine platform to begin with. You can expect that we test every modification we offer both on the track and on the road to produce a higher level of performance for you. We employ the expertise of manufacturers such as Supertech, Windberg, CP, Darton, Pauter Machine, BME, GRP, Saenz, JE, Cometic, SCE, ARP, and many others in our engine assemblies. As the saying goes, 'quality in, quality out'. High quality engine components are the foundation of these engines with no exceptions to this principle.
We custom make our coolant hose kits for the VK56 engine applications. Being the manufacturer of the PreCool silicone hose kits, we have established a viable option for replacing the rubber coolant hoses (and power steering hoses) in the engine bay with a higher-quality alternative appropriate for high performance applications of the VK56DE engine. Each hose is far superior to the factory rubber hoses. They are made from a special silicone composition which can withstand up to 300 degrees (Fahrenheit) of heat and resists damage from abrasion. These Nomex-reinforced hoses are available is several colors, are precision-molded to exact factory profiles and angles, and include the clamps needed to secure them. Hose sets are available for the Nissan Titan, the Armada, the QX56, and VK56 equipped Pathfinders. Swap hose sets work for Frontier, and XTerras as well as other Nissan VK56 equipped vehicles.
All forms of Nissan VK56DE V8 performance builds are on these pages. From Titan pickup builds for trail-ripping, SUV upgrades and swaps for jet-setting, to competition builds for the track and the dessert sands, the VK56DE can do them all. This is where street tunes for 400 WHP come together with bolt-on packages and mild camshaft upgrades, all the way up to 1000 HP twin turbocharged trophy truck builds that have bespoke induction systems and specially designed engine internal components to match, with everything in between that you can imagine for your VK56DE. We gather information about the pinnacle of tuning applied to these engines and share that information and avail top-flight upgrade parts and packages to you directly.
We are now actively developing the newer VK56VD direct-injection V8 engines for performance. Principally we have a solution offering the proven PD90 and PD102 manifolds as induction system upgrades for the majority of street-driven applications. These offer the dual-runner switchover function which is so effective for delivering pavement-ripping torque and incredible midrange and top-end power from the VK56DE engines. Of course we have options available for competition vehicles that require massive improvements to the airflow delivery to the VK56VD engine.