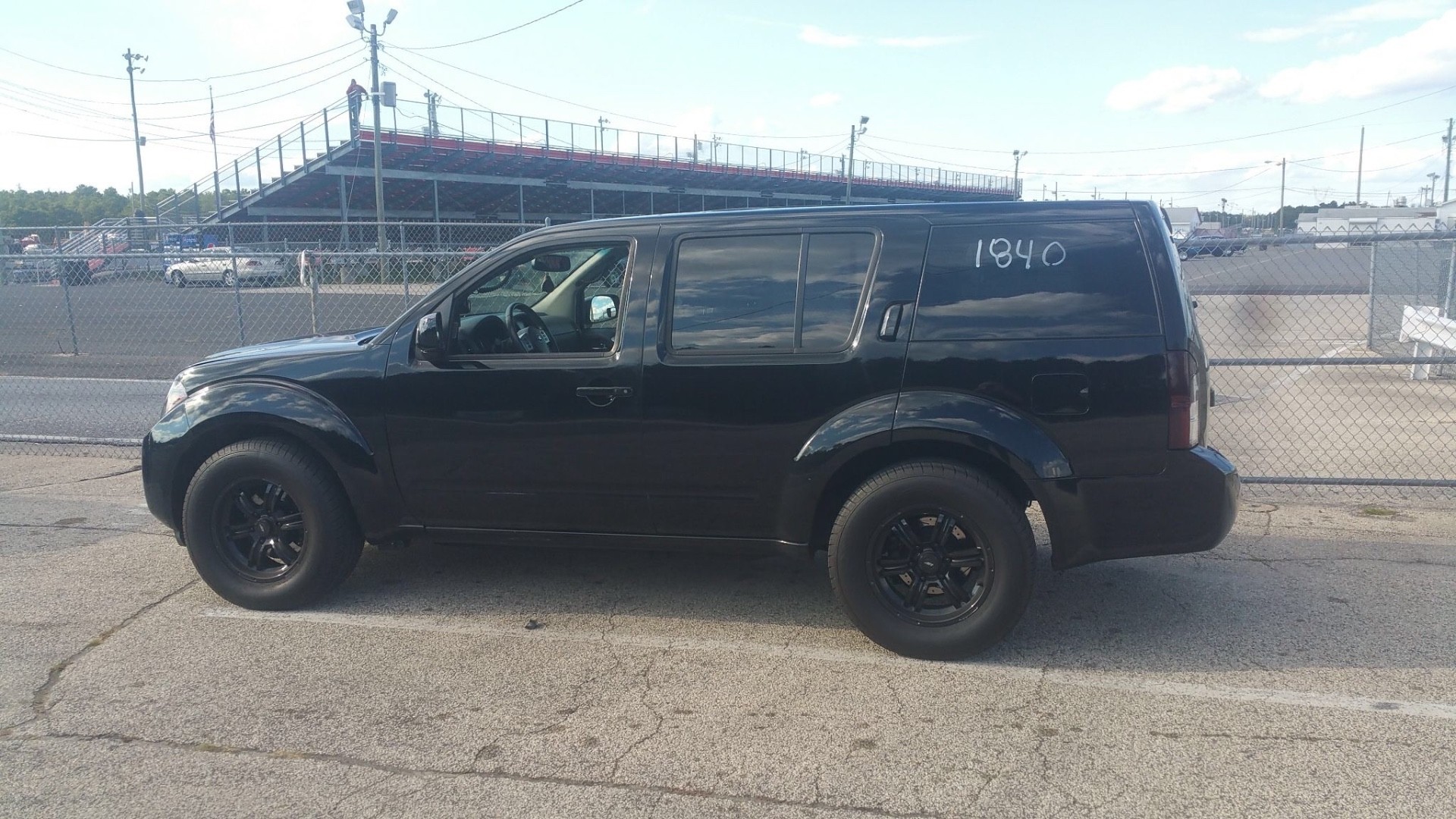 Predrag's 2008 Nissan Pathfinder
This Pathfinder has a PD90 intake manifold, a set of headers, a complete exhaust system, a set of Pre-Cool silicone hoses, and a cold-air intake system. After some tuning of the ECM this VK56 engine produces 321 HP to the wheels with a healthy 375 ft lbs of torque. This allows the Pathfinder to run the quarter-mile in 13.2 seconds at 101 mph. You read that number right, a low 13 second quarter-mile full size SUV! Over the next couple of summers this VK56 engine will be further tuned with a 102mm intake manifold which is fully ported, a fully built high-compression long-block with ported heads and upgraded camshaft.
Be sure to follow me on the web.
What makes this truck run so well? It has a version 1 PD90 intake manifold for starters, a cold air intake pipe, a set of headers connected to a custom exhaust system, and it has a custom tune. Running low 13 seconds is quick enough to get plenty of respect on the road and at the track. What's in store for the immediate future? A ported version 3 manifold with a 102mm opening, fully ported both on the lower runners and the upper switchover casting. In addition to the extensive port work the manifold castings have been modified to reduce extra casting material to reduce weight. With a target of losing 20 lbs from the total manifold weight, this will really help get the Pathfinder down to a better fighting weight. If the porting nets another 45-60 WHP on top of the weight loss, she'll go much quicker for sure! The fully worked over intake manifold is hoped to deliver enough of a gain in top-end power and midrange grunt to get the Pathfinder down the 1320 in the mid to low 12 sec range. Fair warning to Corvette owners out there, this SUV is no slouch.
The numbers don't lie. This full weight SUV has a quarter-mile trap speed over 100 mph. The mighty VK56 gets the job done with this outstanding display of sheer POWER. Torque is what gets a heavy truck moving down the road quickly, and torque is what this VK56 has.
By the looks of the end result whatever was in the left lane bit off more than they could chew..... They nailed the tree with great reaction time, had a good 60-foot time, but by the 1000 foot mark the horsepower of the VK56 was coming on strong! Looks like they brought a knife to a gunfight.
Back to the stellar pass by the Pathfinder...this truck is only .3 of a second from running a 12 quarter mile. The 102 mph trap speed shows that this engine makes gobs of midrange and top-end power. Which it has to to get this 5000 lb SUV moving through the air like that. This is mighty impressive from any point of view for sure.
This PRO-4X came to the Florida facility with one of the PD102 manifolds bolted in place, a set of upgraded camshafts with springs and retainers, a built transmission, long-tube headers, a CAI, and a full SS 2.5" dual exhaust system. Its 400 WHP was not quite enough for it owner, Colton, so a pair of turbochargers are now being added into the mix for its VK56DE powerplant. This low boost system should deliver 600 WHP and transform the Titan into a very fast 'sports truck' indeed.
PRO-4X was no slouch when it was delivered to our Florida facility, but the owner is wanting more power. A pair of turbochargers and all of the supporting components is in order to meet 'the need for speed'. Our first level of turbo systems is being fitted to the engine for a tune based on pump fuel and wastegate only boost pressure levels. With a pair of modified Borg Warner S256 turbos attached to the V8 it won't be the same animal at all. Combining a large front-mounted intercooler, a 50mm BOV, and a pair of 40mm wastegates to the charge piping and Stainless Steel manifolds onto the VK56 engine is all being done on this lifted 4WD truck from the Peach State. Each of its mandrel-bent aluminum pipes connecting the turbos with the intercooler and PD102 intake manifold has the same fully TIG-welded construction and beaded ends to keep it all secure under boost pressure. A nice touch is the polished exterior of these pipes, all to a high-luster shine that can be seen from a mile away.
This truck is getting a special high-response setup that features 4-into-2-into-1 cast Stainless Steel manifolds. With this layout we are setting this street/ trail-tuned Titan PRO-4X for incredible lower RPM power delivery and immediate boost response with the Borg Warner 57mm turbos. This system is all about maximizing the effectiveness of a low-boost setup on a lightly upgraded engine. Don't think for one second that this system won't deliver well in excess of 1000 HP if fully turned up though. The primary runners are close to 2" in diameter and they flow into a pair of very efficient 2-into-1 merge collectors which are fabricated with the appropriate angle for very fast gas flow velocity as the primary design criterion. The secondary runners have equal lengths and are matched to the primary runner tuned length for strong scavenging characteristics and maintaining high velocities. A final 2-into-1 merge collector directs gasses into each T3-flanged turbine housing with an offshoot towards the Turbosmart CompGate 40 wastegate. With a pair of these wastegates controlling boost pressures, this Titan has predictable power delivery that will be rock-solid, both on the paved roads or the back woods of Georgia alike. Exhausting the spent gasses out the rear of the truck we have upgraded the 2.5" Stainless Steel dual exhaust to 3" diameter from the turbos back with a pair of 4" tips making their appearance just underneath the bumper on both sides of the bed.
To chill the pressurized air charge before entering the intake manifold we are using a large air-to-air intercooler mounted behind the bumper. The core will effectively keep a 600 - 800 HP charge cool so there is plenty of heat exchanger capacity for this particular truck. Each turbocharger feeds compressed air into a 2.5" mandrel-bent aluminum pipe which we merge into a specially fabricated Y-pipe with a 4" outlet to connect to the intercooler end tank. As you can surmise, this system is designed to flow well and not choke away any airflow from getting to the VK56DE engine, whether it is cruising under vacuum or running hard at peak boost pressure. These pipes are polished as well and have beaded ends which we have secured with reinforced silicone couplers and T-bolt clamps. Each pipe is fabricated from mandrel-bent aluminum tubing, which is meticulously TIG-welded together to fit within this Titan PRO-4X engine bay made to clear every major component and allow access to important service items like the serpentine belts and coolant hoses.
Feeding each turbocharger inlet is a 4" CAI pipe that is filtered by a massive K & N oiled-gauze air filter. This piping is routed over the engine and joined together with several sections of mandrel-bent tubing, TIG-welded together into a singular piece of aluminum craftsmanship. This main Y-pipe feeds eqaul amounts of fresh filtered air to each turbocharger mounted down below the engine in the Titan transmission tunnel. To provide the needed space for this massive piping we have relocated the power steering reservoir to a lower position on its own bracket and fabricated it from sheet metal aluminum to be more durable than the OEM plastic canister. .
This is one of our clients, sporting just a few parts under the hood currently, soon a specially ported PD102 intake manifold will be apart of this Titan's engine package... With a 11.78 1/4mile elapsed timeslip how can we ignore bragging on what this Titan is doing on the dragstrip? This truck hauls on another level altogether. VK56 power coming through with some good tuning and a bit of 'laughing gas'.
Level 10 has upgraded the transmission in Predrag's Stinger. This allows full power from the VK56DE to be transferred to the wheels smoothly.
The Stinger goes well and shows well. Always looking to showcase the VK56DE, some polishing is always a part of the package.
This is paragraph text. Double click here to edit and add your own text.
Another one of our clients which is sporting a PD102 intake manifold package to terrorize the streets in his Titan. This manifold upgrade is complemented by a cold air intake feeding cooler air into the induction from the fender. With its dual-stage long runners, this manifold has very high air velocity within its passages to keep the VK56 pistons fed a dense air/ fuel mixture from idle through 6000+ RPM, thus delivering gut-wrenching torque all day long.
Here is one of the original PD102 manifolds with its gaping 4" inlet passage on display as it is freshly installed onto the VK56DE engine of this truck. Also added to the mix is another CAI for an induction passage that delivers plenty of airflow to support 400 WHP and more once a good set of headers and exhaust are added onto this particular Titan.
This is paragraph text. Double click here to edit and add your own text.
This is paragraph text. Double click here to edit and add your own text.
As you can see in the picture above, this Titan also sports a cold air intake, which perfectly complements the PD102 manifold sitting atop the VK56DE engine. These 2 upgrades are the hot ticket for this Titan to breathe much more efficiently and help liberate more horses from the corral.